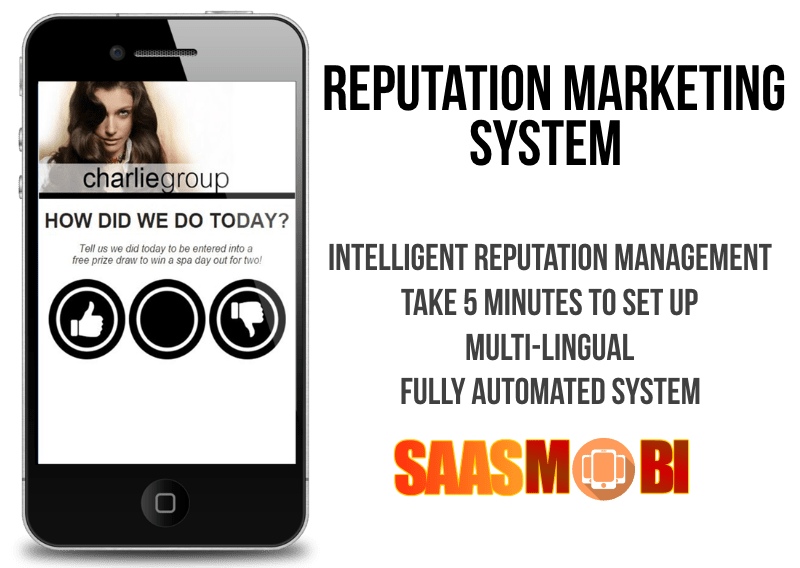 The SaaSMobi Reputation Marketing System takes minutes to set up and you can install it directly from the saaSMobi dashboard to yuor web server. The concept is simple, yet it is very effective. The system filters negative feedback allowing the business owner to contact unhappy customers BEFORE they post a negative review on a public review site. At the same time it boosts positive reviews by making it very easy for happy customers to post positive reviews.
WHAT YOU NEED:
1. Logo/Header Image:
 .png transparent works best. Recommended size 600 x 125 but any landscape image will be re-sized to fit the page.
2. Content:
Initial request/incentive for customers to submit feedback
Response for negative feedback
Link to Review page on TripAdvisor/Google or any chosen review site
FTP details (optional) – if you want to upload the site directly from your SaaSMobi dashboard to any web server, you will need the FTP access details.
To download review/feedback icons – click here
TIPS:
Create a demo reputation marketing system and upload it to your web site to show prospects/clients to see.
Save the first site you create as a 'project'. That way you can use it as a template for faster site creation for future sites.
ALWAYS save EVERY project so that you can come back and edit it at any time.